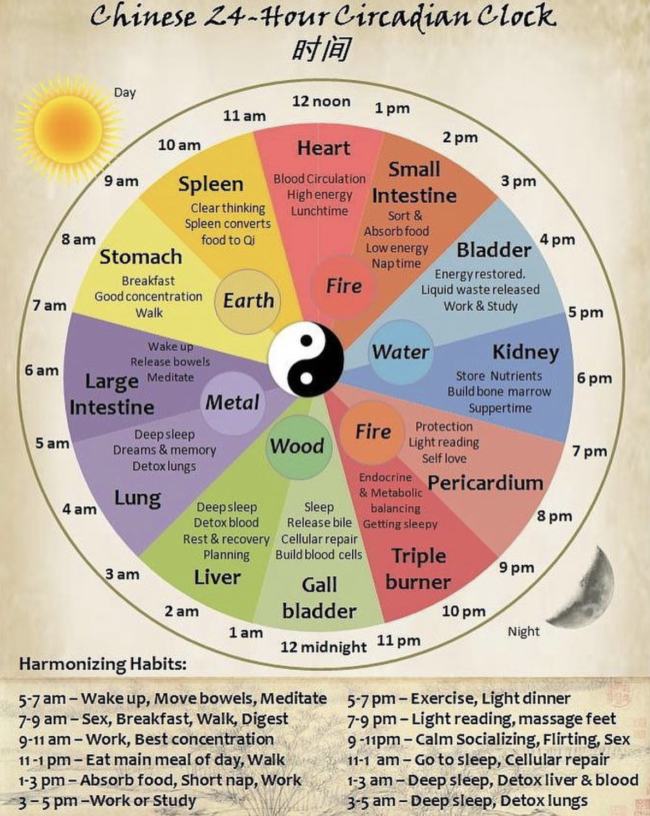 Natural Circadian Rhythms
Our system works on an internal clock.
Honoring our natural circadian rhythms is vital to our physical health and emotional wellbeing.
A little tidbit of TCM advice I give my patients – one of the easiest (and most impactful) changes you can make to better your health is to make sure you're in bed before 10:30 (and asleep by 11pm) every night.
From 11pm-3am the gallbladder and liver meridian are working hard to regulate Qi. These are the hours we do some MAJOR healing. From regulating our emotions and hormones, detoxing our blood, cellular repair, restoring our red blood cells to increasing our parasympathetic nervous system functions. These precious hours are critical.
Not only are these paired meridians working hard on a physiological level, but they also play significant role in balancing our emotions. The gallbladder meridian is responsible for helping us to feel inspired, make decisions, and find our courage. Whereas, the liver is what I called the power center of emotions. It stores, regulates, and releases emotions. Depression, anger, irritability, impulse control, resentment, frustration = liver's job.
.
Make sure you practice proper sleep hygiene so that your body can continue working it's healing magic!
Brandy is a nationally board-certified Diplomate of Acupuncture (NCCAOM) and licensed acupuncturist/herbalist with a specialized focus in Lyme Disease, PANDAS/PANS, Chronic Illness and Gut Dysfunction. Based in Austin, Texas.
Latest posts by Brandy Plunk, MSAOM, L.Ac (see all)